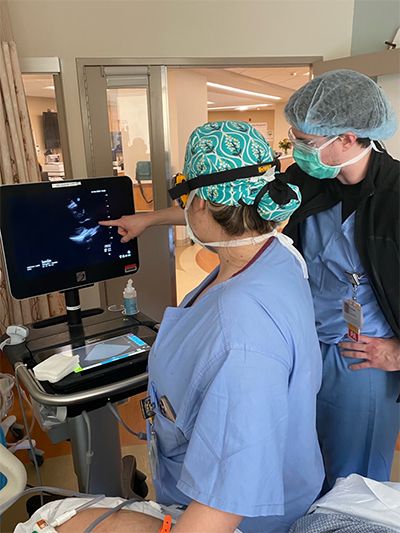 The program at the GW University Hospital aims to have the fellows experience the multidisciplinary management of critically ill patients with diverse patient population and pathology, while getting the chance to experience different management options with the diverse critical care faculty that are attending the units.
Fellows will get to develop an interest and a career path supported by one to one mentorship during their training period. The fellowship will support the growth of the trainees and provide them the exposure required to lead the field in the future.
The program would provide a rich environment to develop the trainees, while providing heavy training in:
Hemodynamic support, non-invasive and invasive monitoring
Advanced ventilatory management
Bedside point of care ultrasonography and critical care echocardiography
Neurocritical care with dedicated neurology / neurosurgery support
Emergency neurological life support
Interest-specific elective training (airway management in the OR, nutrition in critical care, palliative care and others)
Research support and guidance
Applicants who completed training in Anesthesiology, Surgical and Internal Medicine Sub-Specialty graduates must complete a 12-month critical care fellowship. For those applicants who completed a core internal medicine or emergency medicine program, the fellowship training is for 24 months. At least 75% of training in these programs will be spent in the care of critically ill patients in the ICU. The remainder of the training will be in educational activities or performing research relevant to critical care.